We are happy to announce that TripHugger provides itinerary co-editing function in our new release!
Once the leader of a trip turns the co-editing mode on in trip profile page,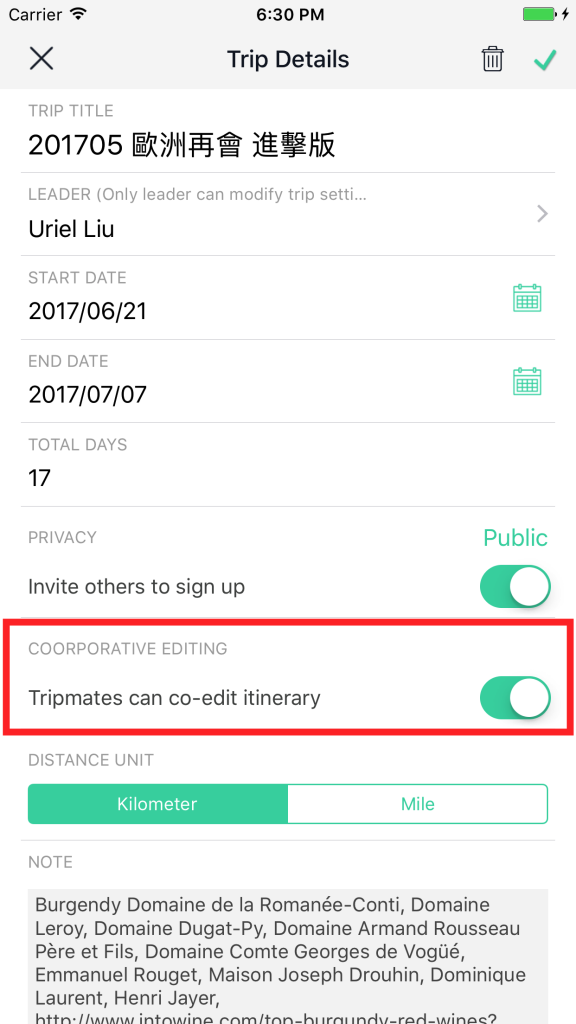 Travel buddies in the same trip will be able to use all functions needed for planning a trip, including
1. Add or delete spots
2. Adjust the spot visiting sequence
3. Increase or decrease the number of travel days
4. Adjust the itinerary by day
Also, you can do planning when your device is offline as well. Once your device is online, all the changes will be shared with your travel buddies. If you do planning simultaneously with your travel buddies, you will see real-time changes made by your travel buddies.
In addition to co-editing function, the new release also provides the following
1. business hour of a spot provided by Google or Foursquare is offered to you for your reference.
2. spot-to-spot distance can be displayed in kilometers or miles through the setting in each trip profile.
3. UI/UX improvement.
Download / update your TripHugger App now and enjoy co-editing the itinerary with your travel buddies! The download link to App Store is here: https://itunes.apple.com/tw/app/id882313848&mt=8